Anita is happy to announce the publication of her book The Country Life of an Artist. How Christmas Cards Tell Her Story. This book is a rare collection of 281 works of art, together with entertaining stories describing their creation during the lifetime of the artist. The 33 Christmas cards relate to personal stories about Anita. They are intertwined with art-related stories that explain how Anita's abstract style changed in order to create realistic portraits of animals.
Order your copy at www.dogbranchpublishing.com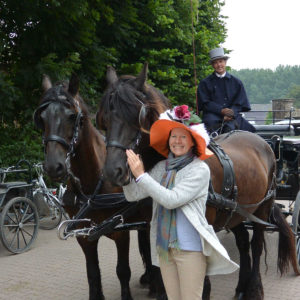 Anita Baarns was born in Fontainebleu, France in 1958. After five years in France, her parents returned with her to the country of their citizenship, The Netherlands. Anita was educated in Nijmegen, Holland. In 1988, she came to the United states and entered Northern Virginia Community College, where she majored in studio fine arts, and received an A.A.S. degree, summa cum laude, in May, 1991. She entered the University of Maryland in the Fall of 1991, majored in studio fine arts, and was awarded the degree of Bachelor of Arts, summa cum laude, in May, 1993.
In 1992, she was granted a United States Patent for a Process For Creating Artworks By Application Of Crayon And Ink. Her oil paintings were exhibited at the American Academy of Equine Art in Lexington, Kentucky in 1995 and 1996. Her work has appeared on the cover of The Chronicle of the Horse many times. And, in 1996, 1998, 1999, 2000 and 2007, she was appointed the Official Artist for the International Gold Cup Races, Great Meadow, Virginia. In 2000 and 2002 she was the official artist for the Upperville Horse Show in Upperville, Virginia.
In 1999, she was the official artist for the 100th Anniversary of the Warrenton Horse Show. In 2001 and 2002 she was the official poster artist for the Casanova Point-to-Point Races.
In 1998, she became a naturalized citizen of the United States, and won the Jean Bowman Award for "Best-in-Show" entered in the exhibition of Sporting Art sponsored by The Museum Of Hounds And Hunting, Morven Park, Virginia.
Beginning in 2005, her work was sold at Frost & Reed in New York City and in June 2006 her work was on exhibit at The American Kennel Club Museum of the Dog, St. Louis, Missouri. In 2008, the American Kennel Club commissioned Anita to paint a portrait of the English Setter Ch. Stagedoor Rock It Man for the Breeder of the Year Award. This painting now hangs at the headquarters of the AKC in New York.
In May 2016, Anita was promoted Signature member of the Society of Animal Artists. She can use the S.A.A. initials signing artwork and use these initials in other communications. This year three of her paintings are shown in museum exhibitions in the US.
Her studio is at Meadow View Farm in Loudoun County, Virginia, where she has been busy creating oil paintings, pastels, and other works by commission. Her work includes animal portraits of horses, hounds and dogs for their owners, as well as portraits of those animals together with their owners.