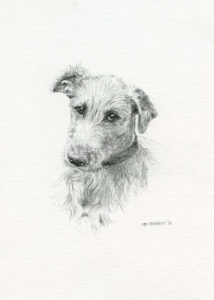 Order Now!
To celebrate publishing my new website I am offering its first viewers a Winter Special! I shall draw a portrait of the head of your dog, horse or cat in pencil on 5" x 7" Bristol Vellum paper.  I will work from your best photograph. I prefer to work from a digital image, but I am willing to use a regular photograph if it is a good quality print.
I can only accept a limited number of Winter Specials.
Just fill out the non committal form below, and I will contact you as soon as possible. The sale price is $425. Shipping within the USA is included. (Offer ends March 30, 2017).
Yes, I am interested in a portrait of my beloved pet.